★★★★☆
(4.25/5)
---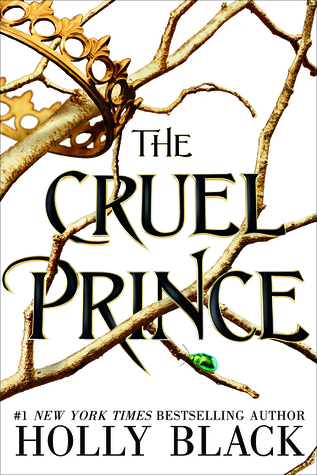 Jude was seven years old when her parents were murdered and she and her two sisters were stolen away to live in the treacherous High Court of Faerie. Ten years later, Jude wants nothing more than to belong there, despite her mortality. But many of the fey despise humans. Especially Prince Cardan, the youngest and wickedest son of the High King.
To win a place at the Court, she must defy him–and face the consequences.
In doing so, she becomes embroiled in palace intrigues and deceptions, discovering her own capacity for bloodshed. But as civil war threatens to drown the Courts of Faerie in violence, Jude will need to risk her life in a dangerous alliance to save her sisters, and Faerie itself. 
---
Ok, y'all, I'm back! I feel like I've been out of it for some time and most of the very few posts that have gone up on my blog have been scheduled in advance. But, I have returned! I will be answering all comments you guys have left me in the past week, and checking out a lot of your posts I may have missed!
So, I guess that's that. Let's get to The Cruel Prince because it was such a fun read! But be warned! There are minor spoilers ahead!
I've been in somewhat of a reading slump for the past couple of weeks. I think it was Restore Me that screwed me up. I tried reading The Cruel Prince last month and only got to like the first 80 pages before I quit. I got through the first three chapters of Furyborn before quitting that too. And shame on me, because I read the first 100 pages of Children on Blood and Bone and stopped that too (worry not! I will get back to it…eventually)
Basically, Restore Me messed with my mojo and I think that this book's helped bring me back because the moment I dove back into this book from where I had left off, I was completely engulfed in the story. I read nonstop, up until almost 3 am, in order to finish it and I regret nothing!
This book is full of nasty little surprises. There is drama, there is action, there is romance, and there is lots and lots of murder. The plot is fast paced and well balanced, the writing is fluid and well written, and the characters are to die for!
As most of my favorite books are, this one is definitely character driven.  The characters aren't nice, they aren't even really all that likable, and yet I was living for their interactions. The relationships between the characters were golden. And no, not just romantic relationships, but just general relationships between people and I loved them all so much!
Jude was a fun character to read about!
"If I cannot be better than them, I will become so much worse." 
There's so much to say about this girl. She's kind of unlikable, and strangely enough, it's why I like her. She doesn't want to be liked by her peers. She doesn't want to be loved by them, not after all they've done to her. What she wants is to be seen as their equal and if she can't have that then, well…see the quote above.
Jude has lived in fear for long and yet she pushes forward. She does all she does, not because she's fearless, or powerful, but because that's how she wants to be. She wants to be respected, she wants to be admired, and deep down, there is a little part of her that wants to be feared.
I loved seeing Jude's development throughout the story. The way she lied and manipulated her way to the top. And yes, I bet that makes me sound horrible, but it's true, the girl did what she had to do and I was cheering for her the whole time. I love her loyalty, her love for her family, her hate for her enemies. All of it was great!
And Cardan?
"Cardan is even more beautiful than the rest, with black hair as iridescent as a raven's wing and cheekbones sharp enough to cut out a girl's heart. I hate him more than all the others."
Cardan is an asshole. I know, excuse my language, but there's no other way to describe him. He is the cruel prince, after all. He's mean, he's rude, he's often times passed out drunk, and he was so much fun. As a love interest to Jude, I'm not too sure how I feel about him yet since he was only revealed as a possible love interest near the end of the novel, and also because I won't forgive him for his cruelty quite so easily. But as a character in general, he was pretty entertaining.
I mean, he was a total trainwreck of a person, but he was so fun to read about.
I don't know what it is about royalty that doesn't act like royalty, that I always love. Cardan is kind of a coward, secretly sucks at fighting, loves to get drunk, and desperately doesn't want to be king. On top of that, he's actually pretty smart and probably knows how to host great parties.
He's also someone who had been mentally and physically abused his entire life. Who has been neglected by his family and manipulated by his friends, and who has never truly known what it means to be happy. Not that I forgive him for being a jerk but like, I feel for him, you know what I mean. I want him to be happy at the end of this. And if he's not, I riot!
And then there were the other characters.
First, there was Madoc, Jude's adoptive father, and the general of the king's army.
"Some are good with pipes or paint. Some have skill in love," he says finally. "My talent is in making war. The only thing that has ever kept me awake was denying it."
Boy, did I enjoy this character. He's bloodthirsty, he's mean, he will decapitate you if you so much as look at him or his family in a way that isn't to his liking, and I loved him! I love the complexity of his character and the relationship he has with his family, especially Jude. I love his twisted sense of love and loyalty, and his total acceptance of his cruel and violent ways. I also that he remains true to that character through it all
Then there were Jude's sisters, Vivi and Taryn. These two really surprised me by the end of the story. When I first started reading I thought I was going to hate Vivi and love Taryn. Turns out Vivi is pretty cool and Taryn needs to get punched in the face. Who would have thought?
Oriana was also pretty cool once you got to know a bit of her past. Dain was a jerk who got what was coming. Valerian was yet another jerk who also got what was coming. And Locke is an even bigger jerk who seriously needs to get what's coming to him in the next book. Seriously, whatever else happens in the next books, Locke needs to get hit by a bus. Or like, at the very least a horse-drawn carriage since that's how faeries roll.
This book was probably one of the most hyped up books of 2018, thus far (number one probably being Children of Blood and Bone), and it did not disappoint. While I admit, that I didn't think it was as flawless as most other people found it to be, it certainly was a fun ride and I greatly enjoyed reading it!
I think that one of the reasons it wasn't five stars was because I put it down for a while there without really feeling the want to get back to it for a bit. Had I read it all in one go things might have been different.  Also, I just simply didn't think it was a five-star book, but hey, it was pretty darn close!
Now I just need book two. Whoever it is that I have to bribe to get it, let me know…
---
Don't Forget to Check Me Out on Other Media!
Strike a conversation with me anywhere! I'd love to hear from you!
I Hope You Have a Wonderfully Blessed Day!
And Don't Forget to Keep on Reading!
~ Angelica