★★★☆☆
---
"One cannot be brave who has no fear"
—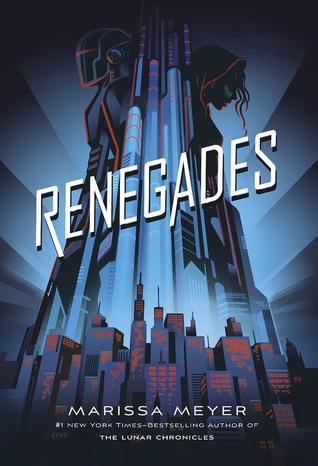 Secret Identities. Extraordinary Powers. She wants vengeance. He wants justice.

The Renegades are a syndicate of prodigies—humans with extraordinary abilities—who emerged from the ruins of a crumbled society and established peace and order where chaos reigned. As champions of justice, they remain a symbol of hope and courage to everyone…except the villains they once overthrew.

Nova has a reason to hate the Renegades, and she is on a mission for vengeance. As she gets closer to her target, she meets Adrian, a Renegade boy who believes in justice—and in Nova. But Nova's allegiance is to a villain who has the power to end them both.
Well, guys, it looks like fantasy and dystopia genres are out and the superhero genre is in. It's already become a part of our pop culture what with all the Marvel and DC movies that have been coming out and will continue to be released in the coming years. It was only a matter of time before it made its way into YA literature and here it is. I'm calling it! This is the new 'it' genre. Sadly, this may or may not be the best book to represent it as a whole.
If I could say only one thing about this book it would be this: it was too gosh darn long!
There was absolutely no reason for this book to near 600 pages. Absolutely none. What's worse, this book serves as nothing but a long-winded introduction to the world Meyer has in store. The same happened when I read Cinder, several years back. I wasn't a fan of Cinder, and then Scarlet came out and my mind was blown away and each book just got better than the last.
Hopefully, the same happens with this series and I fall in love with the next books. Although, I'm pretty sure this is going to be a duology.
As with all superhero stories, there are a lot of names and a lot of alter egos. So much so that I kept having to go to the character index over the first half of the book because I kept forgetting who had which alias or what power and so forth. Eventually, though, I did get accustomed to it all so that wasn't really a long-term problem.
Other problems came from the cliched dialogue between the heroes and villains, the overused tragic backstories, and especially the unnecessary romance. Admittedly, the romance takes a very, very minimal part of the story and in no way distracts from the plot. Simply put, it's unneeded and I secretly hope it doesn't go anywhere.
Mostly though, the problem came from a lack of feeling this book brought out in me. The Lunar Chronicles made me feel. This? Not so much. Then there were the plot twists and the mysteries of the book. Some were fairly predictable. And those that were actually very surprising, felt anticlimactic. I wanted more! I wanted to care and to cheer for them, and to be surprised, and I really wasn't. It lacked that something that makes books amazing for me.
Overall, did I like this book? Sure. It was fine. I know people who have loved it, I know people who have hated it. I just thought it was ok. Will I continue the series? Most definitely. Do I recommend? Totally.
Let me know in the comments what you thought of it! Or if you plan to read it if you have not yet done so!
---
Check out The Book Cover Girls!