★★★☆☆
---
"Do you think a person is as bad as her worst actions?…I mean, do our worst actions define us when we're alive? Or, do you think human beings are better than the very worst things we have ever done?" 
—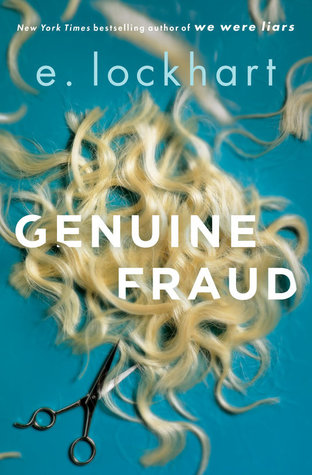 The story of a young woman whose diabolical smarts are her ticket into a charmed life. But how many times can someone reinvent themselves? You be the judge.
Imogen is a runaway heiress, an orphan, a cook, and a cheat.
Jule is a fighter, a social chameleon, and an athlete. 
An intense friendship. A disappearance. A murder, or maybe two. 
A bad romance, or maybe three.
Blunt objects, disguises, blood, and chocolate. The American dream, superheroes, spies, and villains. 
A girl who refuses to give people what they want from her.
A girl who refuses to be the person she once was.
Well, this certainly was a heck of a lot darker than I ever anticipated.
The only other E. Lockhart novel I have ever read was We Were Liars, which I loved. It was a contemporary YA mystery taking place on a secluded island and following a girl who has lost her memory as she navigates complicated family drama.
When I picked this book up I expected a similar type of mystery. Instead, I got a seriously twisted thriller filled with lies, secrets, violence, and murder. Lots of murder.
The first thing you all should know about this book is that it's told in reverse, starting at chapter 18, and going back all the way to how it all began in chapter one. Along the way, we come to see how our main character Jules, ended up with a stolen identity and on the run from the law.
The novel is full of twists and turns, and surprises that will leave you completely in shock. Just when I thought that I knew where this was going, the book did something to throw me off and take me entirely by surprise. It wasn't so much the unpredictability of it, but the pure horror of the things done.
With a third person narrative and an unreliable narrator, we only know the whole story until the very last page. Who are Imogen and Jule, and what is their relationship? What mess have they gotten themselves into? How far are they willing to go to get out of it?
You'll have to read to find out!
Sadly, one of my main problems with this book is the fact that the timeline kept messing me up. I have no problem that the book was told in reverse. What I have a problem with is that the time jumps were so sudden and often times left me confused as to when things were happening.
I also couldn't really connect to the characters. I didn't really care when things happened to them. Sure, I was surprised, and slightly disturbed, when certain things happened, but I didn't feel bad about them.
Lastly, I think that it's mislabeled as being YA. The characters are all in college or of college age. They spend their time traveling the world, spending money, and drinking alcohol. Not very teen oriented if you ask me, but oh well.
Another note. I hear people saying that this is very similar to The Talented Mr. Ripley by Patricia Highsmith. I have not read that book, nor have I seen the 1999 movie with Matt Damon, so I have no idea. If you know about The Talented Mr. Ripley and have read this book, what do you guys think? Are they the same? Who did it better?
---
Check out The Book Cover Girls!