★★★☆☆
3.5
---
"There are only two reasons a non-seer would see a spirit on St. Mark's Eve…Either you're his true love . . . or you killed him."
—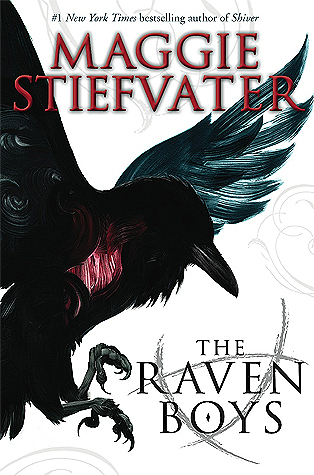 It is freezing in the churchyard, even before the dead arrive.

Every year, Blue Sargent stands next to her clairvoyant mother as the soon-to-be dead walk past. Blue herself never sees them—not until this year, when a boy emerges from the dark and speaks directly to her.

His name is Gansey, and Blue soon discovers that he is a rich student at Aglionby, the local private school. Blue has a policy of staying away from Aglionby boys. Known as Raven Boys, they can only mean trouble.

But Blue is drawn to Gansey, in a way she can't entirely explain. He has it all—family money, good looks, devoted friends—but he's looking for much more than that. He is on a quest that has encompassed three other Raven Boys: Adam, the scholarship student who resents all the privilege around him; Ronan, the fierce soul who ranges from anger to despair; and Noah, the taciturn watcher of the four, who notices many things but says very little.

For as long as she can remember, Blue has been warned that she will cause her true love to die. She never thought this would be a problem. But now, as her life becomes caught up in the strange and sinister world of the Raven Boys, she's not so sure anymore
It has taken me forever to pick up The Raven Boys, but I can finally say that I am officially on the bandwagon!
Since at this point I assume everyone and their mother has read this series, and it's just me that's behind on the times, I'm gonna keep this short.
There is no denying that Maggie Stiefvater is good at her job. There is no denying that this book is wonderfully written. She is one of those authors, much like Laini Taylor that has the wonderful ability to create magic with her words.
This book is vivid, it's creative, it's original, and it has an amazing cast of characters.
More than the magic and the mystery and the adventure, I think it is the character that I am going to remember most of all. Each one was so real, so alive that I could honestly imagine this group of boys existing somewhere out there, hanging out and doing other such mundane things.
It is very much a character-driven story, and those are by far my favorite types. This does not mean though, that the plot is in any way lacking. It is magical and scary and full of many little mysteries that I wanted so badly to figure out. Also, there is so much subtle foreshadowing in this book, and I love that!
So, why only the three stars? Because the overwhelming hype around the books absolutely killed my enjoyment.
The Raven Boys is one of those books that get's built up so much that if it is anything less than absolutely perfect when you read it the whole experience is ruined. I wanted this book to blow my mind and break my heart. I wanted this to be the greatest thing I read all year, and it wasn't.
Admittedly, that is not very fair to the book itself, and I realize that. But, I just couldn't help it. Everywhere I turn there is praise for The Raven Boys. Tumblr is might as well be The Raven Boys' official fan site for all the posts I see!
I guess, I just expected more than I got.
Still, I enjoyed the book and am looking forward to getting to the rest of the series. I have a feeling that it only gets better from here.
---
Check out The Book Cover Girls!