Hello, hello! Rosie and I have created a tag!
For those of you who have no idea who the heck Rosie is, she was my co-blogger back when I started this blog. While she has stepped away from posting, she is still around and loves to come check out the blog every once in a while. If you want to know more about Rosie and her leaving, click HERE.
So, Rosie and I are lovers of all things superheroes and cannot wait for the Justice League movie to come out in November. We are also hoping that it doesn't greatly disappoint us, although there is 50/50 chance of it going to shit. So, we were talking and decided that there was no better way to wait for the release of this highly anticipated movie than with a book tag!
We scoured the internet and could not find anyone who has done a Justice League Movie Book Tag, so we decided that we were going to make one ourselves! And here it is!
We hope you guys enjoy it!
The Rules:
Copy these rules onto your post
Mention creators of the tag:

Angelica and Rosie @TheBookCove

rGirls

and link to the

original post

Mention and thank the person who tagged you and link to their post
Answer all the questions
Since there were originally seven members in the Justice League, tag 7 people
Also, you can use the images provided, but don't have to if you don't want to
Have fun with it!
Batman: You favorite antihero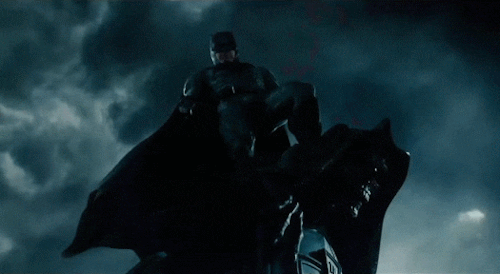 Angelica's Answer: Does Batman even count as an antihero? I honestly don't know. But, oh well. This goes to the one and only Kaz Brekker from Leigh Bardugo's Six of Crows. Does Kaz count as an antihero? Kaz is mean, he's greedy, he's violent, he feels no remorse for his action. He also kills several people throughout the duology without batting an eye. And yet, I want this kid to succeed so badly. He was a hero, only because his enemies were pure villains. He was seen as good, only because his enemies were basically the worst people alive. And I loved him for it!
Rosie's Answer:  I've got to go with Victor Vale from V.E. Schwab's Vicious. In a way, everyone in the book can be seen as an antihero, but I love none more than I do Victor. He's a terrible person who hates everyone, but, he also somehow became a dad to a genius criminal computer hacker, a girl who can raise the dead, and a recently deceased dog. You can't not love him for that.
Aquaman: A book or character that turned out to be better than you expected (because let's be real, we did not expect Khal Drogo to make Aquaman cool)
Angelica's Answer: This is a tough one.  I have to go with one of my all-time favorites, Wuthering Heights by Emily Bronte. To be honest, I did not expect to like this book at all. I only read it because my grade depended on it. And yet, I flew through it and absolutely loved it. It was 100 times better than I ever imagined it would be.
Rosie's Answer: For me, this is easy. This goes to Percy Jackson and his whole series of books. I knew it was about mythology. I knew that it was supposed to be good. But, I had also seen the movie and therefore didn't expect much from the novels. So, as you can guess, when I read the books I was completely blown away. It was so much better than I  thought it could ever be.
Wonder Woman: Most badass female character (not necessarily in a physical sense)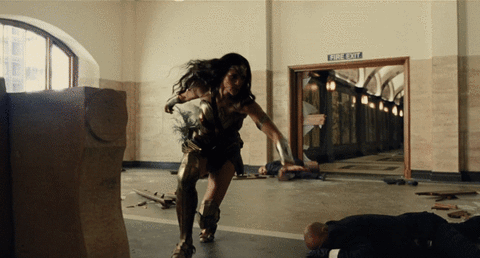 Angelica's Answer: I have to give this one to my girl Inej Ghafa, from Leigh Bardugo's Six of Crows. She is kind, she is loyal, and she is deadly. She is a character who is a badass in every sense of the word. Yes, physically she can kill a man and not break a sweat. But, she is also so much more. Kind of like Wonder Woman herself, there is more to Inej than meets the eye.
Rosie's Answer: This is hands down Aelin from Sarah J. Maas's Throne of Glass. I mean, seriously, does a more bad ass female character exist?
Cyborg: Favorite science fiction novel
Angelica's Answer: I have been getting into sci-fi lately and my most recent read, that I absolutely loved, was Sleeping Giants by Sylvain Neuvel. It's a novel that begs the questions, what if we aren't alone in the universe? And what are we prepared to do when we find out? I highly recommend.
Rosie's Answer: I'm giving this to Dark Matter by Blake Crouch. This book messed with my mind! Imagine a world where every choice you make creates a different, alternate world, born from the choices you did not make. Imagine going through each of those worlds to find your one true love and having to fight all the alternate versions of you to get to them. Truly, a great novel.
The Flash: A book you sped through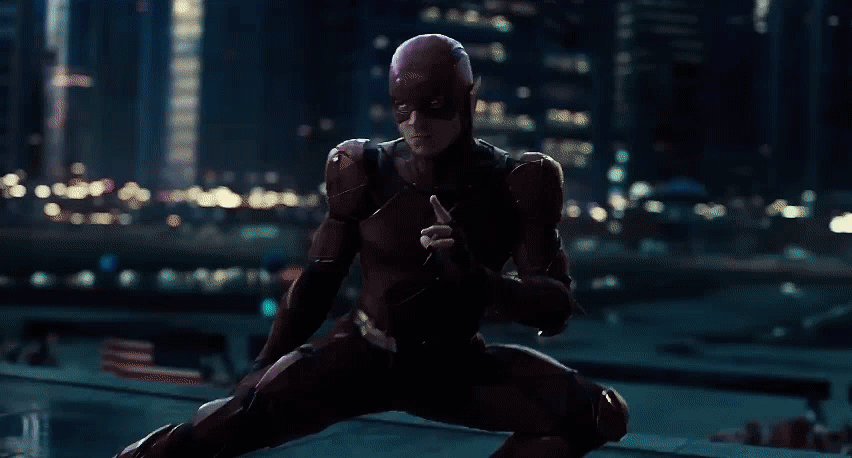 Angelica's Answer: I have to give this to Winter by Marissa Meyer. This is an 800+ page novel and yet, I read it within 24 hours. I love Marissa's writing and it made it so easy to get through the novel. This was also fueled by the fact that I loved the characters and simply needed to know what was going to happen next.
Rosie's Answer: I give this one to Illuminae by Jay Kristoff and Amie Kaufman. I read this book in a day! I was on a plane from California to Maryland and I could honestly, not put this book down! Such a good book! If you haven't read it, go do it!
Superman: Saddest character death (although we all know there's no way Superman is going to stay dead)
**If you do give a spoiler, please be mindful and clearly label the question with a SPOILER ALERT**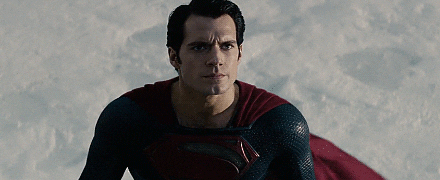 Due to the nature of the question: SPOILER ALERT!
Angelica's Answer: At this point, I am going to assume that this is not a spoiler and just say, Augustus Waters. I hated The Fault in Our Stars. I did not even like the characters. And yet, when Augustus Waters died there were uncontrollable tears in my eyes. I was actually sobbing through a book I didn't like.
Rosie's Answer: Like Angelica, I am going to assume that at this point everyone would know this and just say Everyone at the End of The Book Thief. I don't think I have ever cried in a book quite so much. To this day, the memory of that book haunts me. To this day, that book is one of my favorites.
So, who do we tag?
 The Book Raven || Book Bum || The Orangutan Librarian || Book Princess Review|| Reading with Rendz || Brookie Cowles || The Book Corps
Also, anyone who wants to do the tag!
---
Check out The Book Cover Girls!