★★★★☆
---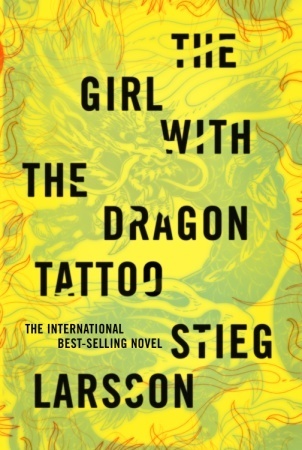 "Harriet Vanger, a scion of one of Sweden's wealthiest families disappeared over forty years ago. All these years later, her aged uncle continues to seek the truth. He hires Mikael Blomkvist, a crusading journalist recently trapped by a libel conviction, to investigate. He is aided by the pierced and tattooed punk prodigy Lisbeth Salander. Together they tap into a vein of iniquity and corruption"
Well, this certainly was intense.
I honestly don't even know how to review this one properly. It was nothing at all like what I expected, or even what I gathered from reading the synopsis. This book is dark and twisted and incredibly complex.
The story starts simply enough, a journalist, Mikael Blomkvist, recently accused of libel is higher by an aging millionaire, Henrik Vagner, to investigate a forty-year-old murder.  With the help of genius hacker Lisbeth Salander, Mikael starts looking into the many secrets of the Vagner family. There they discover conspiracies spanning generations and secrets that are better left buried.
Every time Blomkvist and Salander discovered something new about the Vanger's I thought that it simply could not get worse. But, of course, there was always more, always a darker truth.
Even the characters were extremely dark, especially Lisbeth, a survivor of rape and abuse. She was a dark, and bitter, and intelligent, and sympathetic. Although despite the title, this is more so Blomkvist's story than hers, Lisbeth is the one that sets it all in motion. It is she who gets all the pieces to move and finally makes the breakthrough to find out just what happened to Harriet Vanger all those years ago.
I can't say anything more without revealing important details. Just know that the book has many small, interconnecting plot lines, very complex and flawed character, complicated romances, and a great mystery. I can say no more without spoiling you.
In the end, I only wish that the book would have kept its original title when it got translated into English. The Swedish title, Men Who Hate Women, is much more fitting to the topics discussed in this novel. While The Girl with the Dragon Tattoo, does have a certain appeal, I think the Swedish title makes a greater statement.
Warning!
This book contains rape, sexual/physical/emotional abuse, incest, torture, and murder 
---
Check out The Book Cover Girls!