Second Book is Best
When I saw the topic for this week's T5W I was pretty excited. I thought it would be easier than it turned out to be. But, as it turns out, second books are usually my least favorite in a series. It seems that 25% of the time, the series gets better, with the second book, being the second best and the third being my favorite. Another 25% of the time the series goes down hill with the second book being again the second best, but the third being my least favorite and the first one being the best (looking at you Divergent). The other 50% of the time, second books are just pretty meh. So, this week I'm making this a top three because I couldn't find another one that truly fit into it.
Catching Fire by Suzanne Collins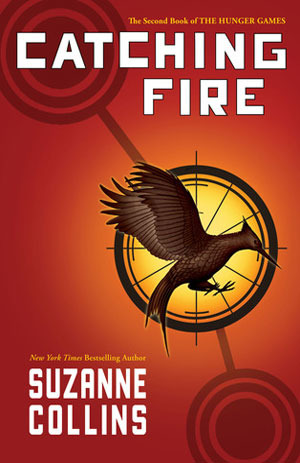 Ok, I'm pretty sure I've said this, but here it goes again: I read the Hunger Games trilogy out of order. And yes, I know, who does that? What is wrong with me? Why would I do such a thing? I wish I had reasonable answers for those questions. But alas, I do not.
I read Catching Fire first, and then read The Hunger Games, and then read Mockingjay.  Why? Because I am impatient and when I went to the library, determined to read this series because everyone was talking about it (this was pre-movie 2010), The Hunger Games wasn't there, but Catching Fire was, so I read that one instead. I know, I'm a monster. Let's move on.
The point is, Catching Fire is the best one.
Crown of Embers by Rae Carson
I've talked about this series a lot lately and have, on each occasion, mentioned my love for this second book. The first book in the series left me unimpressed. If I'm honest, I wasn't all that into it. Then came this book, one I was almost reluctant to read. It went on to leave my mind blown, my jaw dropped, and my heart breaking. I recommend this series just so people get to this book. The third one, The Bitter Kingdom, is also pretty good, but  Crown of Embers totally takes the cake.
The Elite by Kiera Cass
This series has always been a guilty pleasure of mine. I hate the main character, the plot is kind of childish, and the drama is straight up cheesy. But, it's pretty well written, and like a tragic roadside accident, you know you should just keep going, but you also can't look away. And out of all the guilty pleasure this series gave me, none succeeded in entertaining me as much as the book did. It has a little angst, a little action, a title drama, you know, the basics. (Ok, I lied, it has a lot of angst and a lot of drama, but it all works out, trust me)
And that's all I got for you all today!
---
Top 5 Wednesday was created by Lainey @gingerreadslainey and currently being moderated by Sam @thoughtsontomes. This is an ongoing event with weekly prompts to follow. For more information about the group and how to join, follow the Goodreads link HERE
---
Check out our 2017 Reading Challenge