Hey, guess what? I'm giving away a book!
A week ago I wrote a post about a giveaway that I was hosting here in celebration of getting 300 followers on my blog. Again, I want to thank you all. But, for those of you who might not have seen that post and don't know about the giveaway, here it is again!
The Book Cover Girls is hosting am hosting a giveaway for a chance to win a new, free, signed ARC of Maggie Stiefvater's upcoming book, All the Crooked Saints. While at Book Con 2017, I acquired two copies of the novel. I am keeping one to read an am giving the other one away.
And yes, I know, there is controversy about this book. But, let's also keep in mind that none of the people that were originally making their judgement had even read the book at the time. I haven't read it either and if I find a problem with it then I will state that in my review, but I will go into this book without bias, as should we all. So, if you are as excited as I am to read this book, and live in the continental united states, please feel free to enter my giveaway!
Rules & Conditions of Entry
(Read all before you continue)
You must be 13 years or older to participate or have parent's permission.
You must be following The Book Cover Girls here on WordPress.
A winner will be chosen at random on August 30th and will be contacted 24-48 hours after the end of the giveaway. If the winner does not respond to the email 48 hours after contact, a new winner will be selected. If that winner does not respond, then yet another will be picked, and so forth until a winner replies. (The last giveaway I did took me four tries. Please, let's not repeat the events).
The giveaway is NOT open internationally. Since I will be the one mailing the book, you are going to need an address within the continental United States (sorry Alaska and Hawaii). Sorry to my international followers, maybe next time!
Once I make contact I will ask you for your mailing address. That address will not be shared with anyone and will be erased after mailing.
Once the package is shipped The Book Cover Girls will not be held responsible for it. If it is lost or damaged I will not be able to replace it.
Giveaway will run from July 31, to August 30, 2017.
 Thank you all again, and good luck!
All the Crooked Saints by Maggie Stiefvater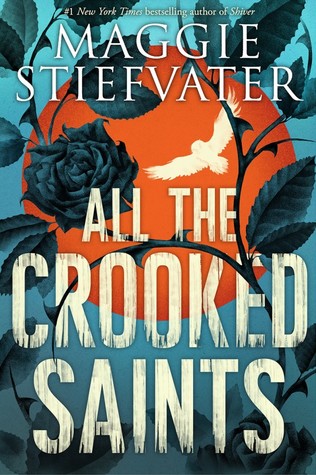 Here is a thing everyone wants:
A miracle.
Here is a thing everyone fears:
What it takes to get one.
Any visitor to Bicho Raro, Colorado is likely to find a landscape of dark saints, forbidden love, scientific dreams, miracle-mad owls, estranged affections, one or two orphans, and a sky full of watchful desert stars.
At the heart of this place you will find the Soria family, who all have the ability to perform unusual miracles. And at the heart of this family are three cousins longing to change its future: Beatriz, the girl without feelings, who wants only to be free to examine her thoughts; Daniel, the Saint of Bicho Raro, who performs miracles for everyone but himself; and Joaquin, who spends his nights running a renegade radio station under the name Diablo Diablo.
{All the Crooked Saints by Maggie Stiefvater will be published by Scholastic Press on October 10, 2017}