★★★★★
---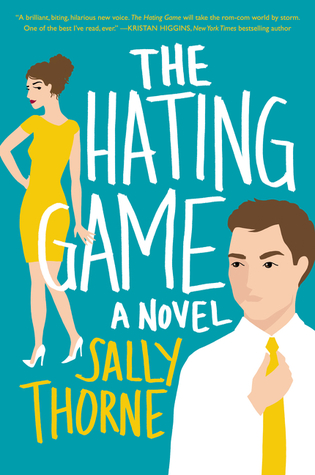 Let me just start by saying that this book was soooo good!
I only heard of this book a few days ago and decided that I had to read it. I went to the library and checked out, and me being me, I began reading it at around midnight on a Monday. Well, technically, I think it was already Tuesday, but moving on. The point is, I didn't go to sleep until like 5 AM because I simply had to finish this novel!
That there, my friends, is dedication. That is what I called being hooked to a good book.
The Hating Game is about two co-workers, Lucy and Joshua, who completely despise each other. They work only a few feet apart from one another and spend more time together than they do with anyone else. They also play a bunch of childish games with one another, seeing which of them will crack first.
Their games are stupid, cruel, and predictable, up until the day that Joshua does the unthinkable and kisses Lucy. From then on, as you can guess, all the trouble begins. And you know what, it was hilariously wonderful.
I was smiling so hard the entire time I was reading this book. Already in chapter one, I was hooked.
Lucy is so quirky and nice, but also hides some serious claws behind that smile. I love her little childish arguments with Joshua, and how they always had a comeback ready to whatever the other said.
Joshua too was super fun. He's seemingly detached and super quick witted. He's mean and hates almost everyone he comes into contact with, but deep down he has a heart of gold and I loved it.
The two practically live to piss each other off. The best part of their day is hating on one another, and they excel at it. They are also completely immature and they totally know it.
"I type my password: IHATEJOSHUA4EV@. My previous passwords have all been variations on how much I hate Joshua. For Ever. His password is almost certainly IHateLucinda4Eva."
Their banter was absolutely golden. The narration too was super engaging and funny, and I laughed out loud more than once while reading. No, not an amused exhale, a laugh. A real life lol.
Sure, there are some slightly cliched parts to the story, but that can't really be helped I suppose. Lucy is, as they all are, super nice and happy. Joshua is, of course, kind of a dick, but not so much so that he's a terrible person. He's actually a decent guy if you catch him off guard. Which is good, because there is nothing I hate more than the whole, 'nice girl meets asshole guy and changes him for the better' trope. That's not what happened here, and I'm glad.
Overall, I loved this book. So much so, in fact, that later on (after I got some sleep and woke up again) I went back and reread some of my favorite parts.  This was a super fun, and super cute book, and I totally recommend. I look forward to more of Sally Thorne's work.
Edit: Originally I had given this 4.25/5 stars but then, the very next day, I went and picked up the book again and reread it in its entirety. So, obviously, I had to bump it to a 5/5 cause I don't just do that with any book.
---
Check out our 2017 Reading Challenge