Hello, hello! I have been tagged! Thank you so much to the Orangutan Librarian for tagging me in this super fun tag about DFN'd books. Also, go check out their blog cause it's amazing, and filled with awesome things like this!
Anyway, this tag is one that I am super happy to do because there is nothing I like more than talking about things I don't like. And there are a lot of books I don't like. A lot of which I have had to leave half way through for fear that the boredom would kill me.
So, without further ado, let's get on with this thing!
Rules:
Thank the person that tagged you (See above!)
Include ping-back to creator of tag (Icebreaker694)
Answer questions (See below!)
Tag other poor souls to do this (Trust me, I won't)
Easy right?
Oh and only use books that you DNF as your answer hence the "to not to read" part
Here we go!
WHAT BOOK WOULD YOU BE WILLING TO FINISH?
A Torch Against the Night by Sabaa Tahir.
I will finish this book, there is no question about it. I read the first 100ish pages and then got bored. I put it down and have yet to return. I flew through book one and hopefully I can enjoy book two also. I think I was just reading it at a bad time. Or, at least that's what I hope.
A DYSTOPIAN BOOK THAT YOU PUT DOWN.
Blood Red Road by Moira Young.
I hear nothing but awesome things about this book and this series as a whole. And yet, I couldn't get into it. Why? Because everything is written like this:
""I never knew that missin somebody could hurt, I says. But it does. Deep inside. Like it's in my bones. We ain't never bin apart till now. Never. I dunno how to be without him. It's like… I ain't nuthin."
That's an actual quote from the book.  There are little to no punctuation. No distinction between narration and dialogue, no nothing! I just couldn't read that. Maybe if I listened to an audiobook I might be able to get past it, but the English major in me says no.
A BOOK THAT YOU JUST DIDN'T WANT TO FINISH AT ALL.
Gravity by Melissa West.
I don't know what happened, really. One moment I was reading it, and then I kinda just stopped and never turned back. Admittedly, I was completely out of it while reading. I didn't care if every character died and wasn't really paying attention to the plot. I guess it just wasn't for me. Mostly because it was cliche and not that well written. But, moving on.
A SEQUEL.
Beautiful Darkness by Kami Garcia & Margaret Stohl.
I tried. I hated myself for it, but I tried. Despite having hated book one with a burning passion, I tried. I am sorry, but I simply could not continue. I read the first few chapter of this book and decided that may, just maybe, I'm not a masochist at all.
A BOOK YOU'LL NEVER AGAIN PICK UP.
Shadowland by Alyson Noel.
I had completely forgotten about this book. I mentioned this series in my Series I Didn't Finish post, not so long ago and I said that I had only read the first two books. Technically, that's not 100% true. After hating book one, and almost dying through book two, I actually read the first two chapters of books three. Needless to say, I stopped, momentarily questioning my sanity and asking myself why I insisted on partaking in such masochistic behavior. Now, that series is behind me and I will never in a million years be returning to the mess that is The Immortals series.
A BOOK WITH TOO MUCH HYPE.
Looking for Alaska by John Green.
I read the first 100 or so pages and then never picked it up again. My friend spoiled the surprise for me and I decided to quit, but it was far too easy to do it. I wasn't too invested anyway. I just don't think that John Green is the author for me.
A HAUNTING READ.
Cirque du Freak: The Vampire's Assistant by Darren Shan.
Once, in the long ago time of 2009, this book got turned into a movie starring Josh Hutcherson and John C. Reilly. Super excited baout this, my friends and I took a bus into town and went  to see it, an awesome thing because I was in 8th grade and my mother rarely let me out alone without adult supervision. After watching it I decided that I would read the book. Except that the movie had been made from books 1-3 (The Vampire's Assistant being the name of the movie, but the title of book two, and some of the plot being from book three, or so I heard). Anyway, book one was bad. Book two, I left half way through and never turned back.
A CONTEMPORARY.
Me Before You by Jojo Moyes.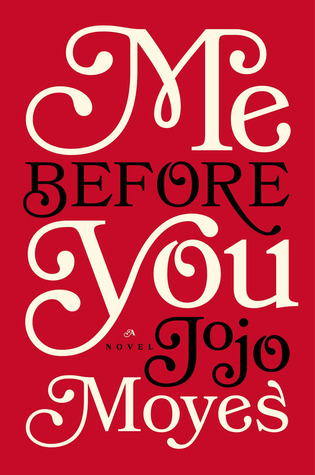 I know, I know. How could I? I read the first few chapters of this and frankly, I was not impressed. I kinda just wanted to see the movie and move on. Sadly, I have yet to see the movie either so maybe I'll do that soon. Maybe.
A BOOK YOU WERE UNSURE OF.
Ruby Red by Kerstin Gier
Everyone has read this book. They either love it with a passion, or hate it just as much. I was indifferent. Wasn't sure of I liked it or not. I wasn't sure if the problem was me or the book. In the end, I  left it. But, if I'm honest, this is one that I actually wouldn't mid finishing one day. We shall see.
---
So…Who do I tag?
Some old friends…some new…some in between
Kristin @Kristin Kraves Books | Des @Des' Random Thoughts | Patrick Greenly | Arcadia Reads | Brookie @Brookie Cowles | Laura @The Book Corps
And anyone else that might be interested, consider yourself tagged!
Link back to this post so I can see your answers!
{Please don't feel obligated to do this tag if you have already done it, or simply don't want to}
---
Check out our 2017 Reading Challenge