Captive Prince Trilogy by C.S. Pacat
One word describes how I feel for this series: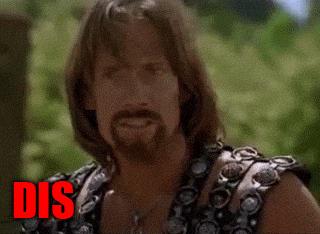 This is going to be fairly short, and it;s going to be entirely negative. Just in case the image above wasn't an indicator.
I know a lot of people who love this series. Love it with all their heart and souls. I also know a lot of people who hate this series. Hate it with a burning passion.
When I began this series I wondered briefly which camp I would fall into. I fell into neither.
The disappointment didn't come from the fact that I hate this novel. I wasn't offended by the content or necessarily uncomfortable, although this has a lot of controversial things inside. My disappointed was that I felt absolutely nothing as I read this.
I have on several occasions joked about my masochistic nature when it comes to reading books I know I don't like. Well, I don't think it's a joke because despite giving books one, Captive Prince, only two stars, I went I read the sequel, Prince's Gambit. It had honestly been less than 24 hours since reading book one that I went and read book two.
Why? Why would I do that?
Because I'm a masochistic reader. That, and I had the wild hope that the second book would change my mind. And so I read it, and while I was a bit more invested in that one, I still only gave it two stars. I was going to stop, but then book two ended in a cliff hanger and so I obviously I had to read the third one, Kings Rising.
The third one was better, but I still felt nothing but a big pile of meh. I am so disappointed in this series. I wanted to feel something. I wanted to love these characters and this world and the story. I wanted to feel something more than indifference. I did not.
The only thing I got from all of this was that I added three books to my Goodreads reading challenge.
Warning: This series includes rape, explicit sex scenes, violence, torture, and murder.
Overall Series Rating:
★★☆☆☆
---
Check out our 2017 Reading Challenge