★★★★★
---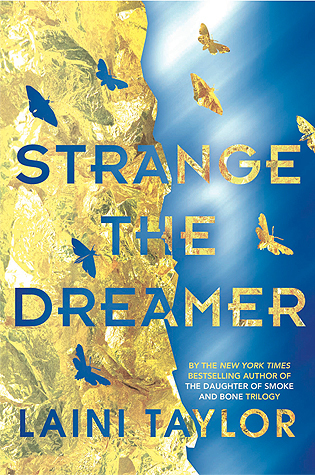 Has a book ever drained you? Used so much of your emotions that you had no clue how to feel once it ended? This book did that to me.
This book took me on a ride and did not let me go until the last word of the last page. And no, it didn't let me down gently. It dropped me from a cliff face first into the cold hard ground of reality. It left me wanting more, needing more, and with a year before I could get it.
This book is by far one of the best books I've read in 2017. One of the best I have read in a long while, and it's going to take something quite grand to top it.
I honestly don't even know how to begin. Laini Taylor's mind is a dangerous, creative place.
"Beautiful and full of monsters?"
"All the best stories are."
The setting of this story is the land of Weep, a magical city devoid of magic, ruined by gods, and missing its name. Floating above it, immovable and fierce is a giant metal angle, blocking out the sky, reminding them of their misery. Within the angle is The Citadel, an abandoned structure filled with the bones of dead gods, wayward ghosts, and something else, something that should have been dead long ago.
There are godspwan and godslayers, dreamers and dreams that come to life. There are moths and wingsmiths and little girls who command the dead. It is, in fact, a place both very beautiful and full of monsters. And it's one of the strangest, most awesome stories I have ever read.
"He wasn't an alchemist, or a hero. He was a librarian, and a dreamer. He was a reader, and the unsung expert on a long-lost city no one cared a thing about." 
Lazlo. Oh, my darling Lazlo Strange. I loved him. He was good, he was kind, he was a dreamer. He was a believer of all impossible things. I loved his story. I loved his journey and his arch. I loved his goodness.
"Sarai was seventeen years old, a goddess and a girl. Half her blood was human, but it counted for nothing. She was blue. She was godspawn. She was anathema. She was young. She was lovely. She was afraid."
I also loved Sarai, the "singularly unhorrible demon". I did not expect to get a godspawn POV. We always get the point of view of the 'hero'. We get one side of the story, here we get them both. Not only that, but we got them both within the same character. Sarai was goddess and human. She saw both sides of the struggle, sympathized with them both. She has been hated and kept hidden all her life, and she has not let it ruin her. I loved seeing her world. Seeing life in the Citadel and all its workings. I loved it all.
"To be one of a pair of bodies that knew that melting fusion. To reach and find. To be and reached for and found. To belong to a mutual certainty. To wake up holding hands."
I know that a lot of people have a problem with the romance between the two. After their stories have been individually explored, Lazlo and Sarai's paths cross, and the two fall helplessly in love. And yes, I admit, it did not take long for it to happen, it somehow didn't feel like insta-love. I was already so invested in these characters as individuals that having them together seemed like the most natural thing in the world, Strange the Dreamer and The Muse of Nightmares.
All the other characters were all equally amazing. They were all real, each living a life and serving a purpose greater than just being objects for our heroes to stand on in their paths to greatness. I want to know more about them, more about Thyon Nero, and The Godlsayer: Eril-Fane, and of course, Minya. I have a love-hate relationship with Minya. How can one hate a person so much and yet be so fascinated by their character, their motives, and actions? This was me with Minya.
And that ending?! I called it! Half way through I had called everything that would happen, and it was still shocking, and satisfyingly tragic when it finally did happen.
I can hardly describe the masterpiece that is this novel. And for those who say that it drags or that it's slow paced, it's because the mythology and the back stories to this book are what make it special, and they each have their explanation. This book is just the right length to be perfect, and trust me, it was.  This book gets all the starts. All of them!
The Muse of Nightmares cannot come soon enough!
---
Hey, you!
Want to win FREE books? I bet you do.
Join our giveaway! Everyone is welcome!
---
Check out our 2017 Reading Challenge