Hello, everyone! I have been nominated! Well, actually, I was nominated almost a month ago, but, since I am me, I am just getting to this now. Sorry! I also (like just five minutes ago) I discovered that I was also nominated by another blogger for the same award just three days ago! See how behind I am on the times! I will answer the questions of my first nomination today, and the second one later this week.
Anyway, I was nominated for this award by Grace @Grace Gets Books. So, thank you so much, Grace! Sorry I couldn't get it till now. Life has been busy. 
Here are the rules of this award:
Share the link to the blogger who has shown love to you by nominating you.
Answer the questions.
In the spirit of sharing love and solidarity with our blogging family, nominate 8-13 people for the same award.
Ask them three questions.
Grace's Questions:
1. What is your favorite book cover?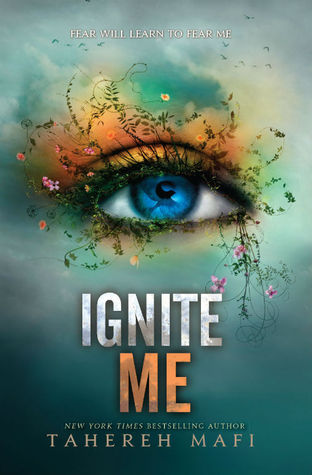 I don't have one specific cover that is my favorite, but I do have several that I like a lot.  All of the Shatter Me books are extremely beautiful, especially Ignite Me. Look at that cover. It's just gorgeous! Kinda creepy that there is a random eye in the middle, but gorgeous nonetheless.
2. Where is the best place to read?
For me, that place is my room. I have mentioned it before that to me, reading is a very private thing. I just always liked reading alone, in a place where I can laugh if I feel like laughing, cry if the book is sad, and just be alone with the story.
3. Name a movie that was better than the book.
Books are always better than movies. Or so, they say. Sadly, that is not always the case. Such as with The Fault in our Stars. Or The Maze Runner. Or Mockingjay Part 2. Or a lot of others.
My Questions:
What is a popular book that you absolutely hate?
If you could bring a fictional character to life, who would it be?
What is your biggest book pet peeve?
So…who do I tag?
Some old friends, some new friends, some friends in between
Jasmine @How Useful It Is | Jackie @Too Much of a Book Nerd | Brookie @Brookie Cowles | Agustina & Sofia @Book Twins | Teacher of YA | Lia @Lost in a Story | Laura @The Book Corps | Sophie @Blame it on Chocolate
Hey, you!
Want to win FREE books? I bet you do.
Join our giveaway! Everyone is welcome!
---
Check out our 2017 Reading Challenge